61-7955

On Wednesday, April 3, 2002, 955 was finally towed to the AFFTC museum at Edwards AFB, California. She has been beautifully restored; unfortunately and no thanks to the terrorists of the world, the public won't be able to see her until base security restrictions are eased. In the meantime, the museum's director Doug Nelson has provided the following photos. He also submitted the following to the base newspaper (reprinted by permission):





"Caution: Cross Traffic Does Not Stop"


Base motorists at the intersection of Rosamond and Lancaster faced a temporary delay last week while a crew towing the AFFTC Museum's SR-71A Blackbird negotiated the tight intersection. Mr Clint Guild of Guild and Co. Transport provided and operated the tractor while being guided by 2Lt Matthew Mihalick, 412 OG, right, and SrA Jason Heintz, 418th FLTS, near left wing. The towing operation was supervised by SMSgt Mark McAndrew, 412 OG with assistance from SSgt Andy White from the museum. Currently parked on the museum site, the Blackbird will be placed on permanent display as soon as concrete landing gear pads are poured. - article and AFFTC Museum photos by Doug Nelson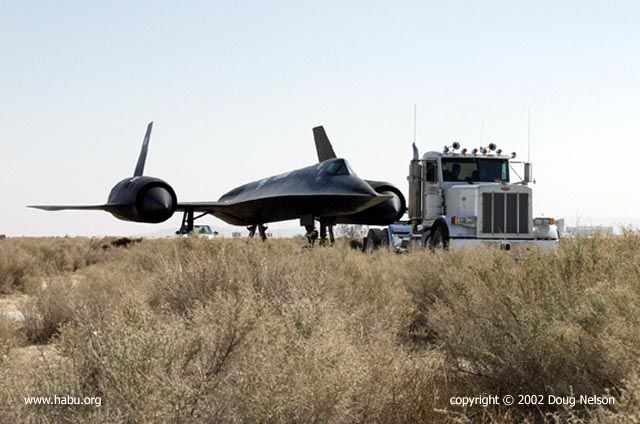 Donn Byrnes, one of 955's first flight test engineers, had the following to say about these photos:



"Thanks so much for the pictures on 955 being relocated. Seemed strange to see a Peterbuilt as the tow vehicle. HOWEVER she is still the same good looking machine I remember from all those early pre-flights in the late 60s. Earl Blemmel the crewchief, and me the FTE, spent a lot of early hours in the dark patting and smoothing the feathers on that beautiful bird.

"To these old eyes she still looks great. Bet she could still do the job."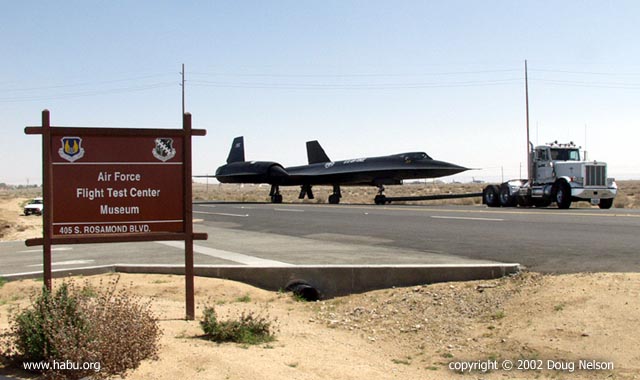 continued...

---
---
Copyright © 1998-2002 Habu.Org